Details

Created on Friday, 06 December 2013 05:24
Meet our day time team, at Burien's Rinconsito!
Armando Uribe our Manager has worked with us for about seven years, he is from Jalisco and he welcomes you every day except on Wednesdays, together with Angela your cashier and Juana & Miguel in the kitchen.

Whenever in B-Town swing by to enjoy a delicious meal and warm home made tortillas....Que Sabroso!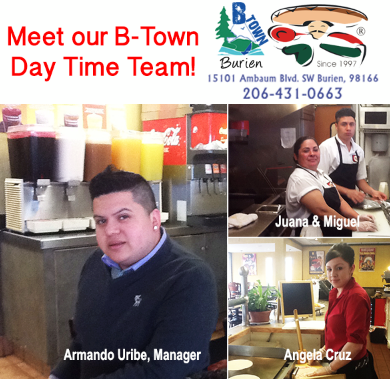 Details

Created on Friday, 06 December 2013 05:24
Meet our Seatac Day time Crew!
We are so lucky to have awesome people working wirking on every location, Mario Zarco is young,
energetic and welcomes our customers with a big smile, just as Sheila and Claudia, that will take your orders cordially no matter how busy we get.

El Rinconsito in Seatac has been opened since April 2011 when it took the place of our old Tukwila location further south which had been opened since the late 1990's.
Our new SeaTac location has brought challenges and rewards. Although hard to see from the street because it's situated inside the mall in front of the SeaTac Light Rail & Tukwila Station, our customers arriving and departing the SeaTac airport and the light rail and buses can now visit our spacious and beautiful Taqueria without having to walk or drive more than few blocks!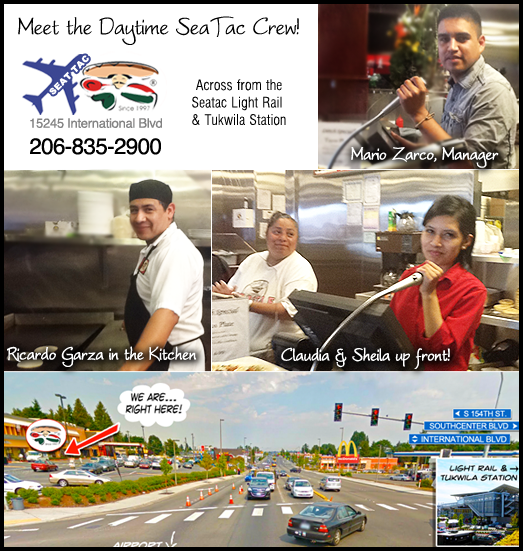 Details

Created on Friday, 06 December 2013 05:24
Meet Sara García, "Doña Sara" at our Seatac location:
Sara has recently joined our Rinconsito team, she helps us make fresh tortillas, gorditas, sopitos and the newest addition to our menu: Guarachi, shown in the photos below.

Sara is originally from Colima, she has 3 sons and seven grandkids, and her favorite Rinconsito dish is Pozole!
We welcome Sara to our team!

Whenever in the Seatac area come and visit, watch her in action, (she is great!), and say hi to her, and while there try a Guarachi, you will love it!