Taqueria El Rinconsito is happy to announce our new and exciting partnership with Sounders FC, the 2016 MLS Cup Champions, starting this 2017 season. We could not be more proud!
This partnership is particularly special for us because it is happening at a time when our Taquerias are thriving and people are loving our food more than ever. Taqueria El Rinconsito is growing at a steady pace just like Sounders FC. We are looking forward to the opening of our 2 two new locations in Mosses Lake and Vancouver, WA which are opportunities to bring our authentic Mexican flavors and delicious menu to more people in this glorious state.
Taqueria El Rinconsito will hold special promotions for Sounders' fans attending 2017 matches at CenturyLink Field. Follow us on Facebook and Twitter, and visit rinconsito.com for more information.
From all of us at El Rinconsito, we wish Sounders FC, 2016 MLS Cup Champions, the best season yet.
¡Felicidades Sounders FC, Campeones del Torneo MLS del 2016!
*******************************************
We're keepin' score with our
SOUNDERS FC MATCHDAY FREE TACO GIVEAWAY!
It's So Good, Goals = Free Tacos!

Bring your ticket to any Rinconsito location within 24 hours from matchday and claim your Free Taco or Tacos!



RULES & CONDITIONS
• Only regular soft Tacos.
• Limited to four Tacos.
• Pollo (Chicken) Carnitas (Fried Pork), Adobada (Spicy Pork) only.
• Sounders FC goals at all regular season home matches only.
• No multiple claims per person. Ticket holder must be present to claim Taco(s).
• Claim must be made within matchday and day after.
• Must show paid match ticket to Rinconsito's cashier (from cellphone or printout) at time of redemption.
• Offer honored at all Rinconsito locations.
• No additional purchase required.
• Offer only for a limited time.
• No rain checks
• All redemption decisions are final
• Any attempt to misrepresent eligibility will disqualify you from promotion.
*******************************************
¡Nos llena de gusto anunciar nuestra nueva alianza con los Sounders FC, campeones de la MLS en el 2016, a partir de esta nueva temporada! ¡No podríamos estar más orgullosos!
Esta alianza es muy especial para nosotros, sobretodo en un momento cuando nuestras taquerías están prosperando y cada día gozamos de más clientes encantados con nuestra comida. Estamos creciendo a un ritmo constante, al igual que los Sounders FC.
Esperamos con emoción la inauguración de nuestras dos nuevas localidades en Vancouver, WA y Moses Lake, WA. Esto nos permitirá llevar nuestro sabor mexicano y nuestros deliciosos platillos a más personas en nuestro glorioso estado.
Taquería El Rinconsito tendrá promociones disponibles solo para los fanáticos que acudan a los encuentros en el CenturyLink Field. Síguenos en Facebook y Twitter y visita rinconsito.com para más información.

De parte de El Rinconsito les deseamos a los Sounders FC, campeones de la MLS en el 2016, una temporada llena de aún más éxitos.
¡Felicidades Sounders FC, campeones de la MLS en el 2016!
Con el ojo al marcador!
EL TACO GRATIS GIVEAWAY EN DIA DE PARTIDO DE SOUNDERS FC
¡Que Sabroso! Goles = ¡Tacos Gratis!
Llévate un taco gratis por cada gol de Sounders FC en los partidos jugados en casa/temporada regular.
¡Tienes 24 horas después del partido para reclamar tu Taco(s) Gratis trayendo tu boleto del partido a cualquier Rinconsito!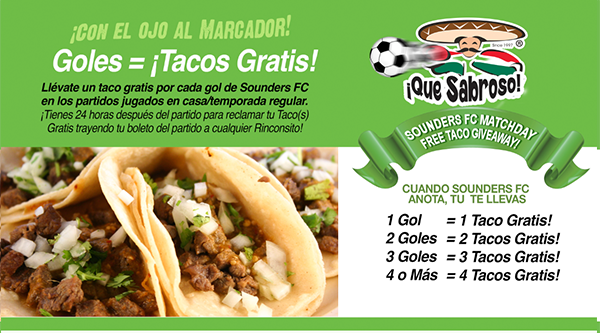 CUANDO Sounders FC ANOTA, TU TE LLEVAS:
1 Gol = ¡1 Taco Gratis! | 2 Goles = ¡2 Tacos Gratis!
3 Goles = ¡3 Tacos Gratis! | 4 o Más - ¡4 Tacos Gratis!
REGLAS Y CONDICIONES:
• Solo Tacos regulares.
• Límite de cuatro Tacos.
• Solo Tacos de Pollo, Carnitas o Adobada.
• Solo cuentan goles de Sounders FC anotados en partidos en casa y de temporada regular.
* No hay múltiples reclamos por persona. El dueño(a) del boleto debe estar presente para el reclamo de Taco(s).
* Reclamo debe hacerse después del partido o el día siguiente.
• Al reclamar Taco(s) se debe mostrar el boleto pagado del partido (impreso o en celular) a la cajera de Rinconsito.
• Promoción válida en todas las localidades de Rinconsito.
• No se requiere compra adicional.
• Promoción solo por tiempo limitado.
• No hay extensión para esta promoción.
• Todos los reclamos de esta promocion son finales.
• Cualquier intento de malinterpretar tu eligibilidad será motivo para descalificarte de la promoción